Ready to start your next
Adventure?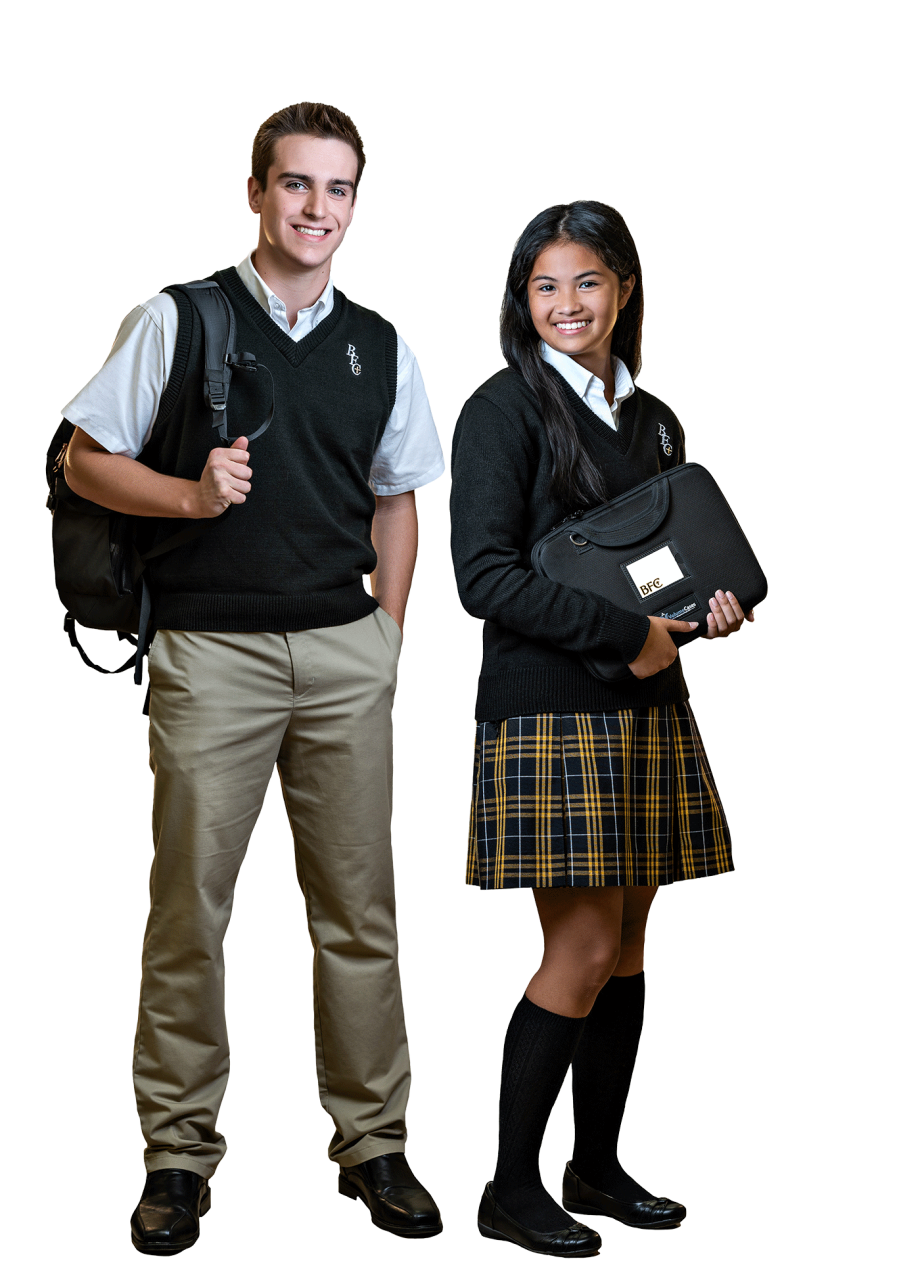 Bishop Foley Catholic High School
We are pleased you are considering our school as your child's home for the next four years. Bishop Foley Catholic is a four-year co-educational, college preparatory high school within the Archdiocese of Detroit, located in the Metro-Detroit suburb of Madison Heights. Because of our central location, BFC students come from over 60 different schools — both private and public.
Select a tab
Stats that set us apart
Academics
Athletics
Extracurricular
99% 99% of Foley graduates go on to attend college, at nearly 150 institutions.
17 : 1 The average student-to-teacher ratio is 17:1 with an average class size of 18.
110+ Over 110 unique courses — plus 12 Advanced Placement and 8 Honors courses.
21 BFC offers 21 athletic teams, including 6 co-op programs to include sports like skiing and girls ice hockey.
12 BFC is home to many 12-season athletes who excel in balancing academics and athletics, preparing them for collegiate level play.
27 + Bishop Foley Catholic athletes have obtained over 27 MHSAA District Championships since 2013, including 3 State Championships!
90 % Over 90% of our students are involved in at least one extracurricular activity or club.
18 Students have the opportunity to join 18 clubs, ranging from robotics to arts, and culinary to medical science.
6000 + BFC students dedicate 6,000+ hours of service to our community, with added opportunities through Key Club and the National Honor Society.

Ask Charlie
Class of 2025

Ask Olivia
Class of 2023

Ask Brian
Coach, Teacher, Parent
When I first shadowed BFC, I enjoyed the feel of the school … They had all the clubs and activities I wanted. Since attending Foley, I've made many friends and have done activities I didn't think I would do.
- Maddy Kubacki, Class of '24
I love attending Bishop Foley because of the family-like environment. The teacher to student ratio is low, so you can build a strong relationship with the teachers and other staff.
- Michael Drozdowicz, Class of '24
Bishop Foley gives each student the opportunity to thrive in and out of the classrooms. Both the staff and students are very goal oriented and are driven to aspire to greatness all while being authentically Catholic. The curriculum is challenging and the teachers know just how to help students due to the smaller class sizes.
- Violet Potempski, Class of '23
At Foley I can find support from my teachers, counselors or anyone in administration. I feel comfortable asking teachers for help or advice when I need it. Foley has really set me up for an excellent future and has helped me prepare for my future.
- Gabriella Irvin, Class of '23
I enjoy attending Bishop Foley because of many reasons, the most important being the faith environment and the amazing friends I've made. The school puts a huge emphasis on both areas of life, while also providing academically rigorous courses and brilliant teachers to convey the information, making it the best high school for anyone interested.
- Eleanor Takach, Class of '24
"Bishop Foley is a school that supports you not as a student, but as a person. They put in their time and work for you and the school is filled with welcoming students. It is a warm environment, and any student would feel welcome walking through the doors for the first time."
- Rosalyn Lass, Class of '26